How to add your publications to ORCA- Online Research @ Cardiff
Items can be deposited into ORCA via two routes:
Items submitted by either of these routes will always be reviewed and edited by library staff prior to being made public.
Before depositing any items, please check ORCA for your publications as some may already have been added. You can view your Author page at http://orca.cf.ac.uk/view/cardiffauthors.
How to add your research publications via Manage My Publications
'Manage My Publications' (MMP) is a quick deposit tool which you can access via the staff intranet at https://intranet.cardiff.ac.uk/staff/research-support/open-access/manage-my-publications
You will need to log in to the intranet using your Cardiff University login. There are three methods of depositing your publications, via the DOI Number, Quick Deposit or Web of Science tabs.
Click here to download a PDF version of this guidance: Manage My Publications quick guide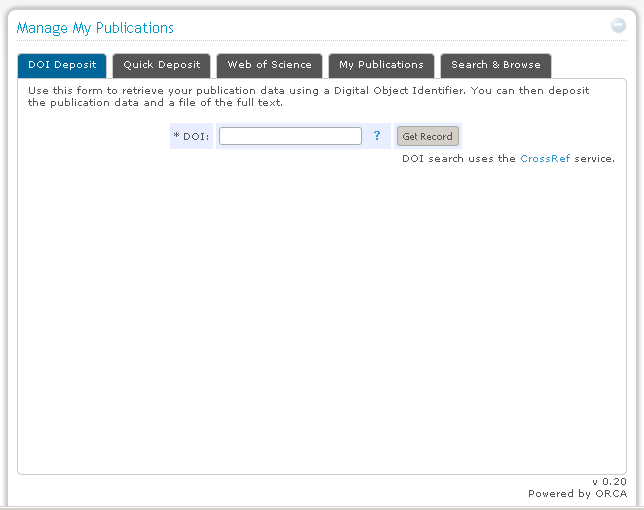 DOI Deposit tab for individual journal article submissions.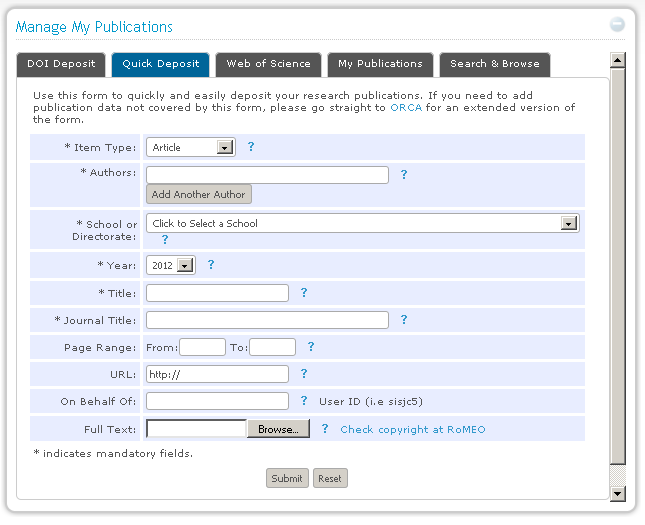 Quick Deposit tool for journal articles without DOI numbers or other types of materials, e.g. books, book chapters, conference papers.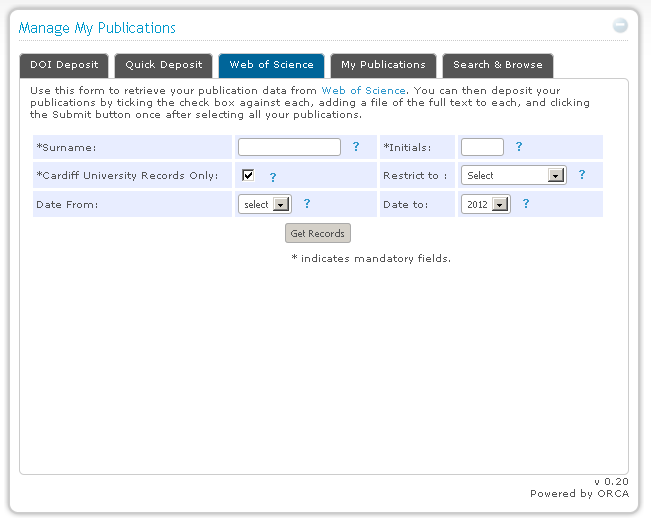 Web of Science tab for depositing several publications at once.
Items deposited through the MMP tool will be reviewed and checked by library staff prior to live publication on ORCA.
How to add items via the ORCA website
If you prefer to deposit the full details of your publications yourself, then you will need to access the ORCA website itself at https://orca.cf.ac.uk. You will need to log in using your Cardiff University username and password. To do so, please click on 'User Area Login' in the left hand menu on the ORCA homepage. If you cannot log in, but think you should be able to please email IT-ServiceDesk@cardiff.ac.uk
Click here to download a PDF version of this guidance: ORCA quick guide
Adding your publication
As before, prior to starting it might be worth doing a quick search to see if the publication is in ORCA already. If it is, but the record needs updating or editing please contact the ORCA team at orca@cf.ac.uk.
If not, please click on 'new item' to create a new repository record and follow the four stages outlined below.
You can move between these stages by using the 'previous 'and 'next' buttons at the top and bottom of each screen.
Don't worry about losing information you've entered when you press the 'previous' button on a form as the system will store everything once entered. However, you should not use your browser's 'back' button when you are depositing papers.
1. Type of publication
On this screen, you should select the option from the list that best describes your publication: for example, 'book' or' article' or 'book section'. The option you choose here will affect what bibliographic information about your item the system needs to collect later.
Click on the 'next' button to move to the upload screen
2. Upload
This optional section allows you to upload a full text copy of your publication to ORCA. If you do not wish to upload a document, click 'next' and move on to the third stage, document details.
Adding a version of the full text of your research work increases its visibility and accessibility on the internet. Some publishers will allow the 'Accepted Version'of a journal article to be used in a repository, that is the author created version accepted for publication. The publisher's version will have the publisher's identity, logo, pagination, branding etc. For further advice on copyright please contact: copyright@cf.ac.uk.
If you decide to upload a full text document, you will be presented with options for describing, licensing and embargoing access to your document. Many publishers attach conditions to their permissions to deposit an item in a repository.
3. Details
The exact details that are required will vary depending on the deposit type you selected at the start of the deposit process.
Above each input field will be a short explanation of what should be put in that field. To the left of each input field is the field name. If the field name has an asterisk, the field must be filled out before the paper can be deposited, other fields are optional. Please attempt to provide as much bibliographic information as possible when filling in the document details.
Once you've entered the relevant information, click on the 'next' button. If there are any omissions from the data, the system will explain what is wrong and re-present the form so you can correct any error.
As with user records, most browsers will allow you to use the tab key to move between the input fields, allowing you to enter information quickly.
The next screen will allow you to choose a subject heading or headings. Please try and be as specific as possible here.
Once you've selected your subject categories and your academic school affiliation, click on the 'next' button.
4. Deposit
This page will display the page for your document as it will appear in the repository. You should carefully check that all the information is accurate.
You should also check that the document files have been uploaded correctly, including any associated figures and links. If you spot a mistake, you can use the form's 'previous' buttons (not the browser's 'back' button) to move back through the depositing process and correct any mistakes.
This page also gives the deposit license for items placed in ORCA. This will ask you to confirm that you have the authority to deposit an item in ORCA and that you grant permission to the University to make the item available online.
If you're satisfied that everything is correct and has been uploaded correctly, and have read, understood and complied with the licence agreement, click on the 'deposit' button to deposit your paper in the repository.
The publication will now be sent for review and will be checked by library staff before being made publicly available in ORCA.
Your work area
Once you have started to add items they will display in your 'work area'. If you start uploading an item, you can decide that you wish to wait until later before completing the upload, and you can start on another item. To save an item prior to completing the deposit click on 'save and return'. Items that you are in the process of uploading are stored in your 'work area.'
If your 'work area' is empty, which will be the case when you first visit the page, you will see a button 'Click here to start uploading a document.' This button will add a new, empty record to your workspace and allow you to start editing it.
If there are items in your 'work area', you will see a list of those records with some option buttons. The title of each record you are uploading will be shown in the list. The option buttons allow you to edit or remove or deposit the record.
For further advice
If you have any queries regarding depositing items either via MMP or via ORCA itself, please contact the ORCA Team at orca@cf.ac.uk or telephone us on 02920 876123. You can also follow our twitter feed @CUOpenResearch.